Smash Bandits Racing
1.09.18
Racing App – Smash Everything in Your Path Even Cop Cars!
Do you like playing games like Grand Theft Auto? Does car drifting and running away from cops give you an adrenaline rush? If yes, then this racing app is a must-have for you. Smash Bandits Racing is a fun game in which you have to smash things on the road as well as traffic vehicles including police cars. It lets you drive some of the fastest cars and vehicles in the world on all sorts of tracks and roads. Your primary goal in this game is to smash every obstacle or road sign that you see while outrunning the cops. The more objects you smash, the higher your TV ratings will go and the more cash you are going to earn.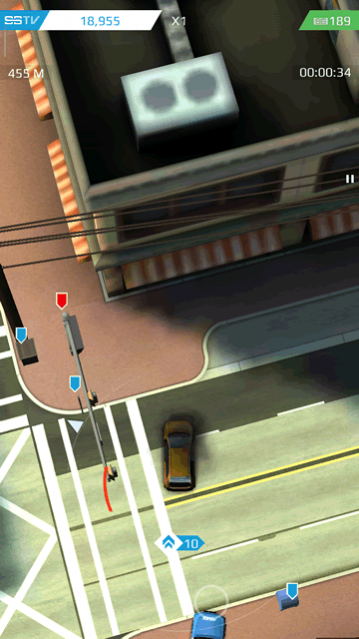 Smash Bandits Racing has some incredible visuals and graphics that will dazzle you every time you play the game. Moreover, the gameplay is slick and fast-paced. However, it is the controls of this racing app that sets it apart from other racing games. It employs a unique cruise control system which allows you to drift and spin your car with a single movement. You just need to move your finger left or right while keeping it pressed to the screen. The controls are very responsive too so you won't have any difficulty in maneuvering the car. In order to continue driving the car, you need to ensure that your finger remains pressed to the screen. Your car will stop if your finger is removed from the screen.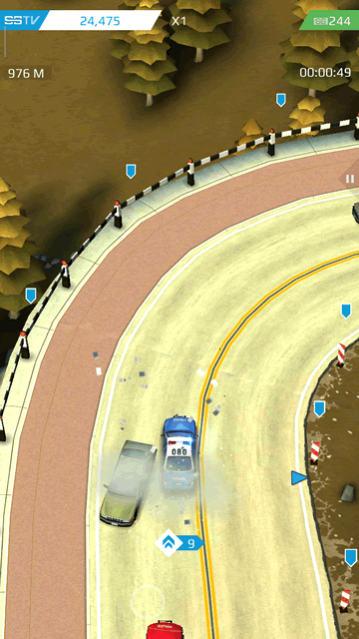 This racing app offers multiple game modes to you. There is the smash mode where you can go about smashing everything in sight and earn lots of cash. When smashing objects, you need to make sure that they have a blue marker on them. All such objects will earn your cash if you smash them. However, if you accidentally smash objects with red markers on them, you will cause damage to your own vehicle. So, try to avoid hitting those. Do remember that each round of the smash mode requires you to spend some cash. You also have a race mode as well which lets you take part in the bandit racing league and climb up the leader boards by defeating all the other racers.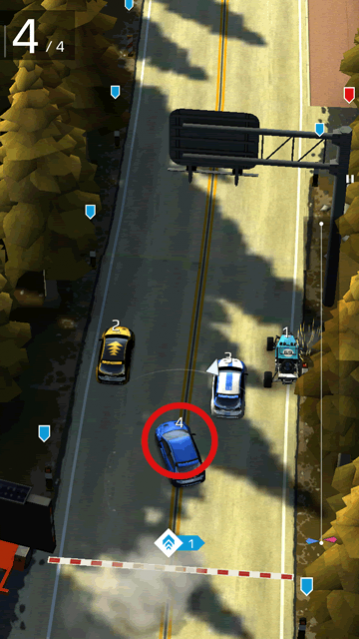 Smash Bandits Racing provides some of the world's fastest cars for you to race. You can also jump vehicles as well while you are driving in the smash mode. There is even the chance provided to you to steal cop cars and other vehicles to continue your smashing spree. However, you would have to spend chips in order to do that. You can earn these chips by completing challenges that are assigned to you and by watching video advertisements. There are various gadgets that you can purchase to prolong your drive as well as upgrades that can help in enhancing your car's performance. You can smash heavier stuff with an upgraded car.
Features:
Lots of different cars and vehicles to drive
Option available to upgrade your cars
Smash all kinds of roadside signs
Earn money by smashing objects
Strike police cars that are following you
Steal police cars and go on a smashing spree
Hit traffic vehicles to clear your path
Avoid hitting heavy objects to minimize car damage
Various gadgets to help you survive longer
Speed away from police cars to avoid getting busted
Continue driving for as long as you can
Complete challenges to earn chips
Take part in the bandit racing league
Conclusion:
Smash Bandits Racing is a gaming app which will appeal to people who love smashing stuff and causing mayhem. It provides them the opportunity to smash roadblocks and other road signs while also keeping the police cars at bay. It is an entertaining racing app and you should have it on your phone if car racing is a passion of yours.
---
Add a review
Tell us your experience with
Smash Bandits Racing
1.09.18
RELATED PROGRAMS
Our Recommendations
---
---
---
---